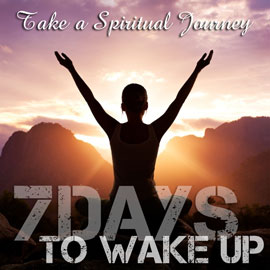 7 Days to Wake Up Retreat - This spiritual journey and apprenticeship in "magic" will be guided by stress reduction guru Dr. Edwin Riley and merry maker Marco Krakaur, at Teocalli, a retreat in the sacred valley of Tepoztlan dedicated to finding happiness, peace and joy for a lifetime. Teocalli is the bridge to spirit ... [more]


---
TESTIMONIALS

"The Stress Rx pre- scriptions are working. Dr. Riley endorses safe, self-medication. Side effects as reported by readers include youthful energy and hysterical laughter. I traveled with Doc for a month and saw him in action with clients and his personal life and I can say with certainty he is the 'Johnny Appleseed' of happiness ... Do it NOW, and you will have the best day ever 24/7."
Viktoras Kulvinskas,
Co-founder Hippocrates Health Institute and Author of Survival in the 21st Century

" A truly unique vacation adventure experience. Be prepared for lush peaceful colorful surroundings, dancing salsa under the stars, a delicious soak in a tub filled with wonderful barks and herbal scents, soothing massage . . . Everything flowed beautifully. I want to go back again and again!!!"
Sandy Hill
Palm Beach Gardens, Florida
Latest News and Offerings

7 Days to Wake Up Retreat - This spiritual journey and apprenticeship in "magic" will be guided by stress reduction guru Dr. Edwin Riley and merry maker Marco Krakaur, at Teocalli, a retreat in the sacred valley of Tepoztlan dedicated to finding happiness, peace and joy for a lifetime. Teocalli is the bridge to spirit ... [more]

Stress Reduction Vacation - Leave your stress behind. LITERALLY. What makes this vacation different from just any stress reduction program is that we offer permanent change from old patterns and behaviors that cause stress. Our specially designed program puts the body back in balance ... [more]
Listen to his radio interview on WLRQ-FM in Florida




The Alphabet Soup for Stress Reduction workshop is a mix of alchemy, heavenly concoctions, organic condiments, mystical wisdom, philosophical spices, ... blended into a frothy cosmic formula for wise decision making in promoting lifelong health. [more]

FAT Rx E-book. How to Lose Weight, Reduce Stress and Have Fun Eating Healthy. 2011
by Dr. Edwin Riley

Amazon $9.99 Kindle E-book
Stress Rx: 103 Prescriptions for Overcoming Stress and Achieving Lifelong Happiness
by Dr. Edwin Riley [more]

7 Days to Wake-Up Retreat Benefits
Alchemy: converting stress, despair and negative emotions into joy and bliss.
Regaining the innocence of a child at play.
Exuding excitement in this journey called life.
Learning how forgiveness cultivates wisdom and intelligence.
Discovering a spiritual world in a parallel universe where time and space are external and always present.

Making most of your time here and now.
Finding miracles in the present moment.
Creating activities of pure joy and challenge and enthusiasm.


Our Mission
At StressReduction.com, our words are impeccable. So are our thoughts, intention and the search for personal truth. Our diet is mental, emotional and spiritual as well as what we eat. What we eat promotes optimal health. Our philosophy is to digest all of our life experiences. In a world now fraught with many challenges, Dr. Edwin Riley offers programs so we can rise to our highest potential. Aware that each of us is a unique, one-of-a-kind individual on a path that differs from the next person, we have designed courses and retreats so everyone is comfortable at whatever stage of evolution that we find ourselves. After all, we are all one, interconnected and our course in life is to achieve an optimal state of joy and happiness. Dr. Edwin Riley offers you an adventure and experience of self-discovery and awareness
so we may all grow together as one in spirit and consciousness.