Holistic healer finds answers in remote Mexico

Palm Beach Post - By Liz Best
Wednesday, March 30, 2005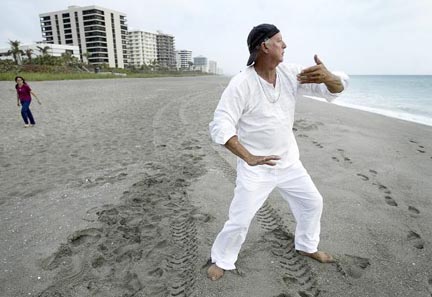 He's lived on a sailboat and in remote Mexican pueblos. He worked as an investigative reporter and did a brief stint with an ad agency. He's a student of life and a teacher of higher consciousness.
And through this mosaic of experiences, Edwin Riley believes he has discovered the secret to happiness. Simply put: Be here now.

Edwin Riley does early morning tai chi on the beach near his home in Juno Beach. He teaches people how to holistically heal their minds, bodies and spirits.

"Live life in the moment and see how richly life unfolds," said Riley, who lives in Juno Beach.
Riley, who ditched a career in journalism after working for The Charlotte Observer and several other newspapers, has a Ph.D. in mind/body medicine, transpersonal psychology and integrative health care.
He's in the business of stress reduction and holistic healing (www.stressreduction.com). He has a private practice with offices in Juno Beach and Palm Beach Gardens and conducts seminars and workshops throughout the county in tai chi and chi kung. He also leads pilgrimages to mountain villages such as Cuernavaca, Mexico, where participants learn to heal the mind, body and spirit.
He knows that he is living an uncommon life, and he wouldn't change a thing about it.
"It's been a great ride," he said.
Riley was born in Columbia, S.C., and earned a bachelor's degree in journalism from his hometown college, the University of South Carolina. During the years he spent working as a reporter and raising a family, he became interested in philosophy and biology.
A job with a public relations and advertising agency left him feeling unsatisfied, so he did what any student of life would do: He went back to school. This time he went to the University of Florida where he received a master's degree in education.
After he and his wife divorced, he bought a sailboat, moored it in Coconut Grove and taught creative writing at the University of Miami and Florida International University. Then he literally sailed into Palm Beach County and taught at Palm Beach Community College.
At the same time, he opened a private practice dealing in hypnotherapy and stress reduction..
He earned a Ph.D. from Union University in Cincinatti, Ohio. Riley's studies and research led him to remote Mexico where the people practice age-old holistic healing traditions. He was impressed by the people and the simplicity of their lives.
"These are healing techniques that date back thousands of years. I got caught up in that," said Riley. "You can feel the love. There's an openness, and it's because people really do live in the moment down there."
Riley now splits his time between Mexico and Palm Beach County. He's working with organic farmers in Mexico to cultivate a plant that possesses healing properties.
"It's a magical plant. It is exciting, and it's a tremendous amount of work," he said.
In the future, Riley wants to lead healing missions to Mexico, where he will guide groups of 10 people on what he calls a "mind, body and spiritual journey."
Riley has a lot going on these days, but that doesn't change the way he starts each day. His routine includes 20 minutes of meditation, 50 minutes of walking and 180 movements of tai chi.
"I stay on the move. I don't sleep much," he said.
Call Dr. Riley at 561-628-8007 or email at riley@stressreduction.com.


,